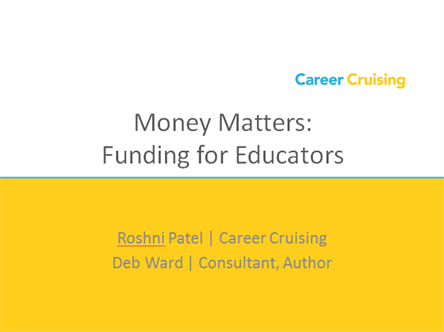 It's no secret that education budgets in USA are tight. As you start to think about resource allocations for next year, you're probably wishing that your budget was just a bit bigger. Luckily for you – it can be!  In this webinar, expert Deborah Ward uncovers the secrets of free funding sources available for educators and shares creative ideas on the following issues and more:


What types of funds are really out there?

Even thinking about funding is too overwhelming for us, how can you make it more stress-free?

My school doesn't have a grants person or the know-how, now what do we do?

What specific steps are involved to apply?

At the end of the session, attendees were given the opportunity to be involved in a live Q&A session where they asked questions directly to Deborah!

It's overwhelming to think about where to even begin with funding – but we simplify the process for you through this webinar. Don't miss out on free money!

Download the PDF PowerPoint Presentation.
Helpful Resources:
About Deborah Ward
Deborah Ward, M.A., CFRE, is the Associate Director of Development-Grants for Gundersen Medical Foundation in La Crosse, WI. Gundersen Health System, one of the nation's largest multi-specialty group medical practices, provides quality health services to patients in western Wisconsin, southeastern Minnesota and northeastern Iowa. She also is a nationally recognized proposal writing consultant whose services include:  project development, prospect research; RFP analysis; writing and editing of proposals; and evaluation of grants programs.

Deb was a monthly Grants and Funding columnist for eSchool News for more than 10 years. She is the author of the third and fourth editions of "Writing Grant Proposals that Win" and "Effective Grants Management" published by Jones and Bartlett Learning. Two of her articles are included in "The Nonprofit Consulting Playbook: Winning Strategies from 25 Leaders in the Field" published by Charity Channel Press. She has presented webinars, and workshops and at conferences around the United States and in Guam.

In addition to grantsmanship, Deb has experience with individual donor and corporate solicitations, direct mail appeals, special events and annual funds. She has her graduate degree in philanthropy and development from Saint Mary's University of Minnesota and her Certified Fund Raising Executive designation from the Association for Fund Raising Professionals. She is a member of the Grant Professionals Association and the Upper Mississippi Valley Chapter of the Association for Fund Raising Professionals.