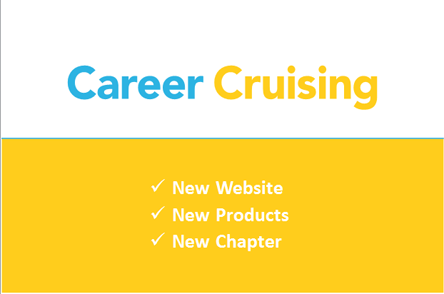 Last week Jeff and I conducted a series of webinars to talk about the new website, introduce to you some new products we have added to the Career Cruising family and discuss an exciting new chapter in the evolution of Career Cruising.
For those of you who missed the session and would like to hear what we discussed, here's a link to the recorded session: Website Launch Webinar
The Power Point slides can be downloaded here: Power Point Slides
During the session, we collected questions from participants and below we have provided answers.
Questions and Answers
Will you share a copy of the presentation PPT?
Yes, we're happy to share a copy of the PPT we used for the presentation. The PPT, along with a video recording of the presentation, will be available as part of a blog post early next week. (see above!)
Will the website login on www.careercruising.com be changed to www.ccspringboard.com ?
No. The login for ccSpringboard and other Career Cruising products will continue to be available on www.careercruising.com.
As for the changes, please address the log in protocol for students. Will it be the same as before the changes?
The only thing that has changed with the Career Cruising login is its location on our Homepage. Students can continue to login with their school's username and password or their personal portfolio username and password as they have done in the past.
Our district just completed a 3 year contract and plans to go forward with Career Cruising. With the new changes, does this increase the cost of CC?
No. Your district can continue to license the Career Cruising products you have been using at the same price. If you were to implement a ccEngage bundle or add additional products, then the price would increase.
How do we access the blog?
You can access our blog by using the "Blog" link that appears just under the login section on our homepage (www.careercruising.com). You will also find links to our three latest blog postings at the bottom of our homepage.
Are these new products all available to current customers? Or are these new things that have separate license agreements?
Each of our products requires a separate license. The purpose of the ccEngage bundles is to provide affordable options for schools and centers that would like to use several of our products.
I work with adults, can you speak to that in your responses tomorrow?
Our core career exploration platform, ccSpringboard, is used extensively in adult employment agencies across North America. While ccSpringboard has proven to be an effective resource for adult career guidance, one of the items on our "to do" list is to create a tailored version of ccSpringboard specifically for adult clients. A timeline for the release of this product has not yet been set.
What is the pricing going to be for the ccEngage bundle?
The pricing for ccEngage depends on the type of institution you are at. We have different bundles of products for elementary schools, high schools, workforce development, etc. To view the ccEngage bundle that is relevant for you, go to www.careercruising.com and select your institution type from the dropdown menu under the Product heading on the right-hand side of the page. During the ccEngage webinars we will walk everyone through the pricing for the ccEngage bundles.
Your website seems really targeted and designed for elementary aged students. Our organization deals primarily with youth and adults. Since your mission states "to engage and inspire individuals of all ages" then why do you have a picture of elementary aged children on your home page? I find that this would not help to engage youth who would feel that Career Cruising is for children and not for young adults.
We provide career development resources for people of all ages – elementary school through adult. We selected the current image because it effectively conveys the idea of engagement, but we recognize that it only fits a portion of our clients. It is our intention to cycle through images on our homepage to ensure all our user groups will be represented in the photos we use.
Has the guided tour for Career Cruising changed?
No. There have been no changes to our tools after you log in, so you can continue to use all of the current support materials (guided tour, classroom activities, user's guides, etc.).
Can we have copies of the references for the information presented?
During our presentation we shared information from four different reports. The names of the reports, with links to the reports themselves, are listed below:
I had a question from a counselor recently asking me if there's a way to print a list of a particular group of students complete with passwords. It was mentioned that they believed this was possible in the past. If it was, I was never made aware of this. I'd appreciate any answer you can give me.
It is possible to print a list of students with their portfolio usernames and passwords. This is done through the Career Advisor Management System (CAMS). After you log in to CAMS, you can view a list of your students or all of the student in the school by clicking on the "View Student List" links. After clicking on the "View Student List" link, you can also click the "Search for Students" button to use filters to create a sub-group of students. All of the student list pages include students' usernames and passwords and are printable.
Thanks so much to all of you who took the time to learn more about what we have been working on! It was great to have the opportunity to talk with you all.
Matt McQuillen
CEO, Career Cruising