By Max Sadlowski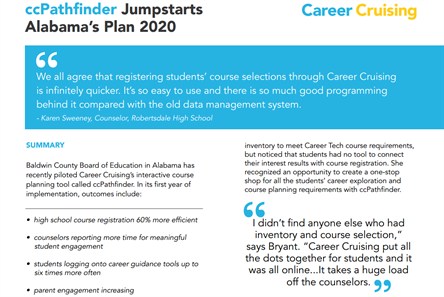 " I didn't find anyone else who had inventory and course selection," says Julie Bryant, CTE Coordinator and District Lead for ccPathfinder. "Career Cruising put all the dots together for students and it was all online...It takes a huge load off the counselors."

 
During the 2012-2013 School year, I had the pleasure of working with some fantastic  educators in Alabama at Baldwin County Schools to implement ccPathfinder, Career Cruising's 4-year course planning tool. Baldwin is now setup years ahead of the rest and have truly jumpstarted the Plan 2020 for their school district.
 
In this whitepaper, developed with the help of Baldwin County Schools, you can see many of the reasons why Baldwin County is eliminating the paper and pencil method for course planning and going digital. In it's first year of implementation, outcomes include:
 
•    high school course registration 60% more efficient
•    counselors reporting more time for meaningful student engagement
•    students logging onto career guidance tools up to six times more often
•    parent engagement increasing
•    state mandated reporting generated with ease
 
Read the full whitepaper here to see what Baldwin staff members had to say and why they have chosen to use Career Cruising for their career guidance and course planning needs.