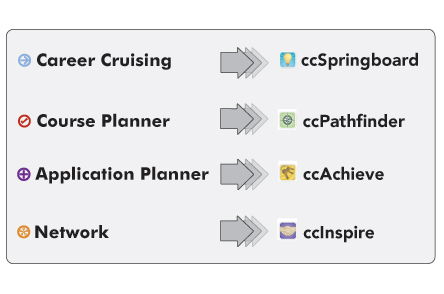 If you've spent a few minutes on our new website, you have no doubt noticed a lot of changes, including new product names. I'd like to help you quickly make sense of it all.
The reason for the changes is really quite simple. For years Career Cruising was a single product company and it made sense for Career Cruising (the company), to provide Career Cruising (the product).
In our ongoing mission to engage and inspire individuals of all ages to achieve their full potential in school, career and life, we now deliver a full suite of career development resources. To keep them straight, avoid confusion, and prepare for future growth and enhancements, we have given them all new names.
Here is a summary of the products you already know:
Career Cruising is now ccSpringboard;
Course Planner is ccPathfinder;
Application Planner is ccAchieve; and
Network is ccInspire.
Collectively, these components comprise ccEngage, our complete solution of bundled products and services configured to fit your needs.
There are also two new components we are adding to the suite of ccEngage: ccTheRealGame and ccSpark! ccTheRealGame is a role playing game that brings the real world into the classroom by allowing students to imagine life as an adult, make adult decisions and experience the consequences. The Real Game Series' reputation for engaging students more than any other classroom-based career program has led to its use in more than 50,000 classrooms around the world each year.
ccSpark! is a K-5 digital learning game that introduces students to careers and helps them develop life-planning and social skills. Students will love the activities and characters that await them in the fictional town of Sparkdale. Educators will appreciate the fully integrated activities and alignment with career education curricula. ccSpark! will be released in time for the 2012-2013 school year.
Please note that while the names have changed, the products themselves and the user experience have not. This ensures continued, seamless use of the complete career development tools, assessments, planners and other resources you have come to know.
Please contact your account manager if you have any questions at all.