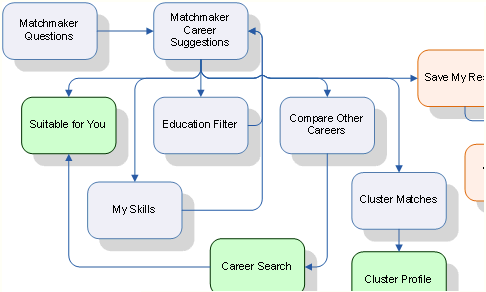 You have seen the fantastic new website we recently launched that talks about career development, our products, and our company. The feedback we've received has been overwhelmingly positive. While people appreciate the new external site, a number of you have asked when we will be looking at the application itself.
Have no fear—we are on it! We are currently undertaking a full redesign and rebuild of the end-user interface that we are planning to release this fall. Updates for the administrative and reporting tools will follow.
When Career Cruising, now ccSpringboard, was originally released as a CD-ROM in 1997, the program consisted of a simple, but extremely compelling set of features, which included innovative multimedia interviews with real working people. Since then the application has grown in ways we never imagined. Driven by customer feedback, Career Cruising has expanded in all areas, particularly with our industry-leading portfolio. We've also added new products, like ccPathfinder, ccAchieve, and ccInspire, which extend the functionality of the program even further.
While we have been focused on delivering new features and functionality to users, the application interface has become overloaded. At the same time, the way people use the internet and user expectations continue to evolve.
Candidly, the user interface doesn't accurately represent the sophistication of our users and the current capabilities of our products. Time and time again, we hear that people don't realize everything the program can do. We want to change that.
Rather than making a few changes here and there, we believe the best way to meet our users' needs is through a complete renovation that lays the foundation for future additions to ccEngage.
Our goals are to maintain the user-friendliness of program, embed more self-directed workflows to ensure that all users find the tools and resources that are relevant for them, to personalize and modernize the experience for users, and create a more engaging environment for students and adults alike.
To realize these objectives and bring a fresh new face for our products, we will be consulting with Jet Cooper, a leading user experience design agency. Jet Cooper helped us build the new external website and we are thrilled to be working with them to improve the user experience for all of our clients.
We will keep you updated as the project progress. More to come…