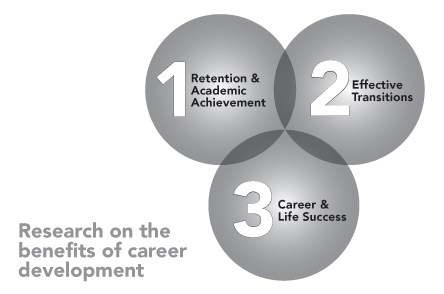 Researchers at the International Centre for Guidance Studies (UK) have examined the evidence surrounding career development. In this study1, they set out their findings and conclude that there is clear evidence that career development activities in schools can have a positive impact on the lives of young people. Specifically, they argue that career development can impact young peoples' decisions to stay in school and increase their likelihood of graduating. They go on to say that career development can support young people in making transitions to college and the world of work and ultimately increase their chance of career and life success.
For those of us who work with schools and young people none of this will come as a surprise. We can all recall memories of young people whose lives have been transformed by a visit to a school counselor or a career suggestion made while using a system like Career Cruising. However, this study enables those of us involved in the promotion of career development to point to a range of academic studies that demonstrate these impacts more systematically.
The study's authors also conclude that career development is most meaningful when it is integrated with academic curricula, begins early, leverages the benefits of technology and involves a variety of stakeholders. The inclusion of not only school counselors, but teachers, parents and employers creates a more compelling and effective environment for career development.
Many of us have observed a decrease in the number of career development opportunities that are available in our schools. We feel that this is regrettable and that the findings of this report demonstrate the value career development offers to young people and to communities. In our view, there is a need for a national campaign to reinvigorate school-based career development and to ensure that young people have access to career development that truly prepares them for college and the world of work. Career Cruising believes this study provides policy makers and school leaders with the evidence they need to make decisions about the availability of career development. We hope that you find it as valuable as we have. Download study
1. Tristam Hooley, John Marriott and James P. Sampson, Jr. "Fostering college and career readiness: How career development activities in schools impact on graduation rates and students' life success." International Centre for Guidance Studies (iCeGS), University of Derby, UK.