By Sarah Brown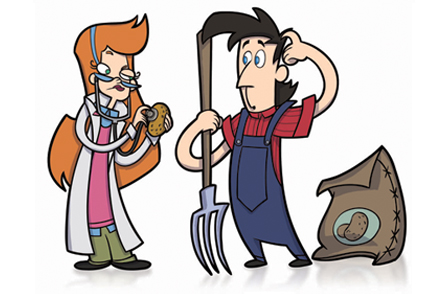 Since last fall, I've been happily collaborating with Career Cruising's in-house content enthusiasts and supported by a team of North American Career Development Curriculum experts to develop the fun, age appropriate, educationally valuable product that is ccSpark! The big news from me this month is that ccSpark! is now in full production!
ccSpark! is Career Cruising's new elementary career development product, which helps young students learn about social skills, life planning, careers and their personal strengths and interests. ccSpark!'s interactive learning environment has been thoughtfully designed to engage and inspire students to learn more about this important curriculum area.

To help us bring bring ccSpark! to life, Career Cruising is working with a fabulous team of creative and technical experts, each with a deep background in developing rich educational and interactive school age experiences. So in addition to our `in production` news, I`m excited to introduce this extended team you to today.
ccSpark!'s core game and interactive design is being lead by No Crusts Interactive under the guidance of Carla Fisher. In addition to her career as a children's game designer, she is completing her doctorate at Teachers College, Columbia University, where she studies technology and its relationship with human cognition and development, particularly as it applies to children and games. Carla has produced interactive games for clients including Sesame Workshop, PBS KIDS, and Highlights for Children. Carla's creative contribution to ccSpark! is additionally supported by No Crusts Interactive's Creative Director Anne Richards who has developed many high-profile preschool series, including Bear in the Big Blue House and The Book of Pooh for Disney Channel and It's a Big Big World for PBS KIDS. Anne has also worked extensively as a creative consultant for companies including Discovery Kids, MGM and the BBC.
ccSpark!'s technical development lead is Toronto based Incubator Games, headed by RadekKoncewicz, CEO and Creative Lead. The company's founders have led technical development and production for numerous game projects, and have a portfolio that includes three E-Learning products launched for the Science Alberta Foundation: Kelvin's Space Ranch, The CO2 Connection, and VR Pipeline. In addition to E-Learning products, Incubator Games have extensive experience working with children's games such as Pixar's Cars (mobile), Critter Crunch (mobile), HOMM: Clash of Heroes (Nintendo DS), Pirates of the Carribean : At Worlds End (mobile), Jimmy TwoShoes (mobile and Flash-based web), and Shake and Spell 3D (iOS).
At Career Cruising we`re excited about launching ccSpark! in September this year and helping our clients support career development goals for 21st Century Learners, at the elementary grade level.
Stay tuned for more about ccSpark!'s fun learning features, next month!