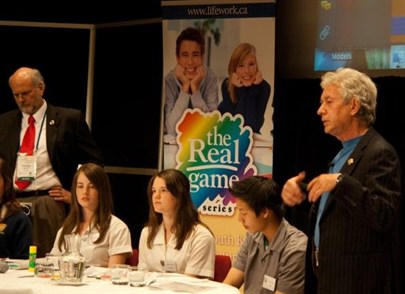 FOR IMMEDIATE RELEASE
(For questions or additional information contact Sheila Joy at 703.862.7217 or sheilaj@careercruising.com)

# # #
Toronto, Ontario – (April 13, 2012) – Career Cruising, founded in 1997 and used by nearly 20,000 schools throughout Canada and the United States, provides age-appropriate career development, assessments, planners and other resources. In its ongoing mission to engage and inspire individuals of all ages to achieve their full potential in school, career and life, Career Cruising is pleased to announce their recent acquisition of The Real Game.
Currently used by tens of thousands of students and adults around the world, The Real Game has one main goal: To help participants imagine their future. The strategy in achieving this goal starts with inspiring students to explore what they wish for in their adult lives. Next, The Real Game uses national, state, and local data in a fun and interactive format to show participants how school connects to their future careers, encouraging them to be more purposeful in the present. As part of the Career Cruising product family, The Real Game will be renamed ccTheRealGame and offered as a central component of Career Cruising's ccEngage suite.
"ccTheRealGame is the perfect complement to Career Cruising's ccEngage", says Phil Jarvis, Career Cruising's new Director of Global Partnerships. "Developed to give students an easy and effective way to improve skills and knowledge needed for success, ccEngage can be used as a single, complete solution or combined with individual components to meet a school or organization's unique and immediate needs. The addition of ccTheRealGame to the ccEngage suite of solutions helps us further our mission to provide real-world experiences as individuals explore the pathways to their future success."
Mr. Jarvis, formerly Vice President at the National LifeWork Center, was involved in the development of The Real Game. Together with the original author, Bill Barry, Jarvis gathered career development and curriculum experts to create specifications. The program was piloted across the U.S. and Canada concurrently, with grant support from Canadian and U.S. governments.
Mr. Barry, a teacher, writer and actor, launched The Real Game when his then-12 year old daughter said she couldn't see any connection between her school subjects and her dreams. Barry took this to heart and, through the development of The Real Game, found a way to bring the real world into the classroom and give young people a test drive at being adults while they're still in school.
Guided by a teacher or instructor, ccTheRealGame can be used in a classroom setting, after school, or during extracurricular events and activities. The participants take on the role of an adult character, and immediately become engaged when they imagine where they will be in ten to fifteen years. They create their own virtual community. They choose their future homes, cars and other major purchases while determining how they will balance life, work, time and money.
Participants then land a job and learn what a typical day would be like. This is where reality sets in. They must now think about paying taxes, how they will spend their time out of work, how they will allocate their paychecks to cover living expenses and determine if the car and house they chose early in the game are realistic, based on their personal net income.
ccTheRealGame leaves the participants with the knowledge requirements, skills, and educational paths that will help them achieve their real-life dreams. "It's becoming an economic imperative that we work together to ensure students not only graduate from school, but that they know what steps to take next", concludes Jarvis. "ccTheRealGame is more powerful than anything I've ever seen to help build a student's future. They become much more engaged and inspired and soon realize that every time they don't get up and go to class, or fail to complete an assignment, it can affect the rest of their lives."
Career Cruising enables a "whole community" approach to career and workforce development. Helping students make informed career decisions results in improved utilization of education and training resources, higher student engagement, greater worker satisfaction, positive patterns of employment stability, and increased income and benefits. Collectively, these outcomes result in a healthier community, overall. For more information about ccTheRealGame or ccEngage, please call 800-965-8541 or visit www.careercruising.com.
# # #