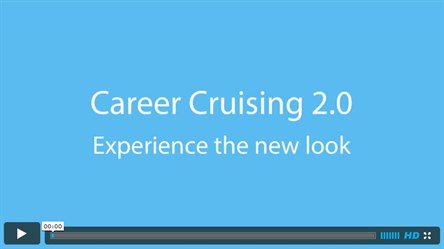 This December, Career Cruising will unveil a fresh new look. While the inspiring content and engaging features will continue, a number of new features have been added to seamlessly enhance users' experience.
Here's what our CEO, Matt McQuillen had to say about the exciting launch of CC 2.0 and how exactly it will affect all of our clients.
1) What is going to change on Career Cruising?
When we first created Career Cruising, the program centered around exploration.  Whether that was searching for a career, looking for a school or program, or taking an interest assessment, the entire process revolved around exploration and discovery.
Over time more and more of the focus switched to users building portfolios or individualized learning plans. So basically what we saw was one element of Career Cruising, namely the portfolio, now becoming the focus of the program as a whole. But the navigation of the program, and the pathways for moving through the program, still revolved around the exploration and discovery model.
So a big part of what the redesign is all about is putting the portfolio, which we now call "My Plan" front and center for the end-user. This means when a user logs in, the first thing they will see in the top left corner is a navigation option leading to their portfolio. They will also see a dashboard showing them the status of their plan, what they have completed, and what they still need to do.
There are two very useful by-products of this shift in focus. First, it makes it much easier for us to help guide users through the program by directing them to different tasks to complete within Career Cruising. Second, we can personalize the experience in more meaningful ways, for example, by letting them upload a picture of themselves which is then carried throughout the application in the main navigation bar.
Another big change, will be the overall look and feel of the website – the user experience.
Suffice it to say that our existing interface needed to be updated.
To make sure we got it right, we worked with Jet Cooper, a user experience agency  we had worked with before and who we trusted to deliver a beautiful and humanistic design that our users would love. The goal was to make the site beautiful to look at, incredibly user-friendly, easy to navigate and a pleasure to use.
We believe, with Jet Cooper's help, we have succeeded.
2) Are there any exciting new features?
 A few.
Auto-saving of assessments results will now occur which will be a big plus for anyone who in the past might have accidentally forgot to do so.
Editing the content of your portfolio is now done in-line in very slick ways rather than requiring a page refresh which is how the site used to function. These kinds of conventions are carried right through the site and go a long way to making the site much more intuitive for end users.
As well, we have introduced an updated process for creating your resume that we think our users will like.
But overall, with this re-launch, the focus has been on making sure all of the existing functionality is brought over into the new design. Keep in mind there were hundreds of pages that had to be restructured, re-coded and redesigned in order to make this all happen. It was an incredibly challenging project and to be honest, I'm extremely proud that our development team managed to pull it off on the timeline they committed to.
3) When is it going to change?  
On Saturday, December 8th, the application will be placed into maintenance mode. Then, on Monday, December 10th, the switch will be flipped and the new redesign will GO LIVE!
4) Will I have to re-learn the program?
Yes, be prepared to feel like your world has been turned upside down.
Kidding.
In truth, although we have brought the portfolio front and center, the overall navigation of the website remains unchanged. Although our users might be a little shocked when they first login because everything looks different, they will have no problem finding what they need. And after about 5 minutes of using the new site, we think they'll be pretty happy with what they see.
5) What will stay the same on Career Cruising?
The features of the program apart from what was mentioned earlier, will be pretty much the same as the previous design. As well, navigation as a whole is quite similar and of course, the same wonderful content.
6) Why did Career Cruising feel these changes were necessary?
For the past number of years, we have been focused on delivering new features and functionality to users. While doing so, the application interface began to become a bit overloaded. At the same time, the way people used the internet and user expectations continued to evolve.
Candidly, the user interface no longer accurately represented the sophistication of our users or the current capabilities of our products. Time and time again, we heard that people don't realize everything the program could do. We wanted to change that.
Rather than making a few changes here and there, we believed the best way to meet our users' needs was through a complete renovation that set the foundation for future additions to the program.
7) What should people do if they have further questions?
Contact your client account manager if you have any questions whatsoever.
8) Can you share any interesting points about the development process?  Any exciting collaborators?
For everyone on the development team, including the Jet Cooper designers and front-end coders, this project was an unbelievable amount of work! Not only did we have to implement a whole new design, but we also switched our programming methodology over to MVC. Model–View–Controller (MVC) is an architecture that separates the representation of information from the user's interaction with it. It meant our team had to learn to think in a whole new way in terms of how the back-end was programmed and managed.
The other extremely cool thing about this project: Two of the people who created the very first Career Cruising website back in 1998, Te Thebeau and Cory Thomas, joined our organization this year and played an instrumental role in guiding our team through all of the changes. Some really funky karma going on there!
9) Why are you excited about this?
Of course, we are extremely excited about the new design. It's like a new toy that you just can't wait to share with your friends.
But it's more than that because the redesign isn't just about what you see on the screen. The guts and core architecture of the product have also been overhauled. New conventions in terms of coding practices, new processes for development and design have been put into place.
Why did we do this? We wanted to position ourselves for the future with a pattern for design and development that will allow us to rapidly add new features and functionality.
That will be the lasting achievement of this redesign.
10) How will the new design affect users' saved work?
Nothing will be lost and there will be no change to user's saved work. Everything will carry forward to the new design. Nice and clean!
11) Will any existing features be lost with the redesign?
No features will be lost. However, some features available in the current program will not be ready at the time of the re-launch. The features that we will still be working on for release in the near future:
US Career & Technical School Selector
US Graduate School Selector
US Compare Career & Technical Schools
US Compare Graduate Schools
Printer-Friendly reports for the school and occupation profiles
US Federal Financial Aid information section
Industry Profiles
12) Does the new design effect users' system requirements?
Chrome is now fully supported.
We have dropped support for Internet Explorer 6 and 7. IE 8 is supported.
Older versions of FireFox will need to be updated.
13) When will the support materials be updated?
All of the printed support materials will be ready for the launch! We are working hard to re-record all of the tutorials for the new redesign, so you can expect them to be ready by the second half of December and early January.
14) Why is the new design being introduced in the middle of the school year?
The release of a new design is always a challenge. We felt a mid-year release allowed us to be in close communication with our clients to make sure they were aware of the changeover rather than releasing over the summer and having users arrive back at school with a surprise.
As well, in order for us to continue on our path of improving Career Cruising it is essential to complete this release so that new development can be built on the re-designed interface and new architecture that we have put in place.
15) Will the redesign affect the Career Advisor Management System or the Regional Reporting System?
Not at this time. We realize that these tools need a renovation too, but we wanted to get a better design in students' hands as quickly as possible.