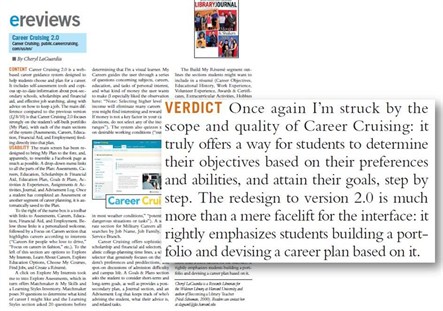 FOR IMMEDIATE RELEASE
(For questions or additional information Roshni Patel at 1 (800) 965-8541 or roshnip@careercruising.com)
# # #
(Toronto, Ontario – April, 2013) – Career Cruising 2.0 is receiving rave reviews from one of the most trusted and respected publications in North America.  Library Journal praises Career Cruising for its "copious up-to-date information", as well as its relevance to students.
"Once again I'm struck by the scope and quality of Career Cruising: it truly offers a way for students to determine their objectives based on their preferences and abilities, and attain their goals, step by step."
—Cheryl LaGuardia, Harvard University, March 15, 2013
The review walks readers through the new layout of Career Cruising 2.0, which is centered on the student's self-built portfolio (My Plan).  Readers are then led through the main sections of the program, which include Assessments, Careers, Education, Financial Aid, and Employment.  These sections feed back directly into My Plan.  Library Journal thought this restructuring was a terrific innovation:
"The new focus on the Plan, or portfolio, is a real plus that is rooted in real-world needs and practices... The redesign to version 2.0 is much more than a mere facelift for the interface: it rightly emphasizes students building a portfolio and devising a career plan based on it."
—Cheryl LaGuardia, March 15, 2013
Library Journal goes on to credit Career Cruising for having "sophisticated" scholarship and financial aid selectors, "realistic" college-planning time lines, and "spot-on discussions" of admission difficulty and campus life.
Two years ago, Library Journal gave Career Cruising a perfect ten-out-of-ten after reviewing its ccSpringboard program (Library Journal 8/10).  Receiving another complimentary review from such a credible library resource is yet another exciting step in our ongoing mission to engage and inspire individuals of all ages to achieve their full potential in school, career and life.