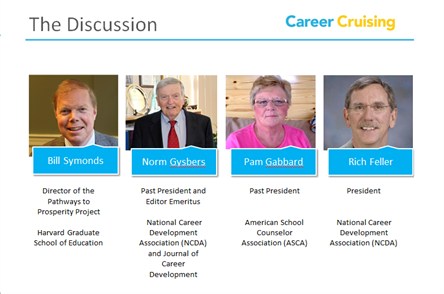 This month, we were very excited to host an exclusive online event for our Career Cruising community as a way to show our appreciation for their continuous support! We hosted a live conversation with some of the most respected names in the world of career development.  They discussed the challenges facing career educators, practical coping strategies, and implementation plans with concrete examples. The panellists included:
In addition to addressing specific questions from attendees, we had asked panellists to discuss the following topics:
The role of career guidance and career education in schools and post-secondary, and practical ideas to connect the dots between education and career
Successful implementation models of career programs in education
Common challenges faced by career educators and practitioners and practical strategies to overcome those challenges
For a full recording of the event, please click here.
For the complete PowerPoint deck used during the presentation (containing references to resources mentioned during the presentation) please click here.