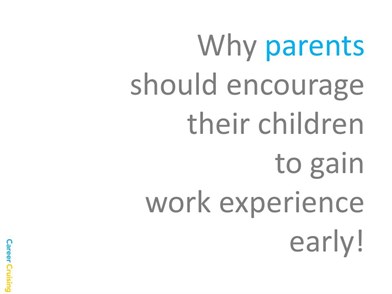 The world is so different today from when we grew up.  The path that we took was for the most part linear: get a good education and you will find a good job. However, the market is very competitive today. What is going to give our children the upper edge that they need to come out on top of this competitive market?

Tune into this conversation with expert author Sandra Finkelstein where she discusses 4 key things all parents should know when it comes to the success of our children:
Understand how the world is very different today than it was when we were young

Realize the true value and importance of employment/volunteer opportunities for your child

Learn tips on how you can help your child begin the process of looking for volunteer positions, internships or paid work

Know the difference between your role as a parent and guide during your child's career development process and their own

Tune in!
Follow along!
Download the PowerPoint to follow along: 4 Things Parents Should Know To Help Children Navigate the Job Market.
FREE HANDOUT!
Download our FREE HANDOUT that provides parents step by step instructions on how to help children build resumes, build their personal brands, understand corporate culture and industries, learn what they like and dislike, build connections, leverage the power of networking and perfecting the art of interviews.
-----------------------------------------------
ABOUT SANDRA

Sandra Finkelstein is an author, youth advocate and empowerment consultant. Her book, We're Not Gonna Take It is a resource book geared to the millennial youth to give them, their parents and youth workers the tools and resources to assist in their decision-making process and provide the foundation for their success in this market. She is currently working with companies on intergenerational relationships (motivation and engagement strategies that bridge the gap between different age groups to create a cohesive and engaged work environment).