By Denis Luchyshyn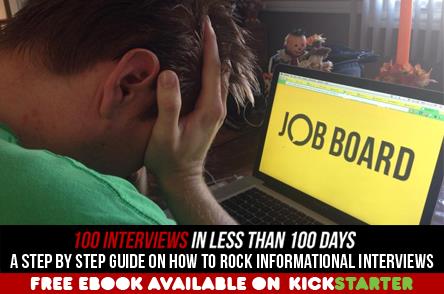 Sending out hundreds of online applications and then waiting to get that coveted phone call inviting you for an interview is NOT AN EFFECTIVE job seeking strategy. In this digital age it's becoming of growing importance that youth develop their professional networks.
Our FREE E-BOOK (GUIDE) on informational interviews takes the reader through the best practices for researching companies, reaching out to the right contacts, and scheduling, preparing, and conducting informational interviews. The easily digestible information is a great resource for youth, educators and career practitioners inside and outside the classroom.

Understanding the frustration and difficulty so many youth face when searching for employment, this guide is written from the perspective of two recent graduates that went through the struggles and successes themselves. It features the combined advice collected from over 125 individuals including youth, career educators and employers.

Download the FREE E-BOOK (GUIDE) on informational interviews.


About Road to Employment

Road to Employment, a Victoria based multi-media company, takes an innovative and grassroots approach to solving North America's youth unemployment and underemployment crisis. Determined to find a solution Denis and Clinton set out across the country in a fuel efficient two door Chevrolet in search of answers.

The team has traveled over 8,000km, collaborated with more than 125 stakeholders, and surfed dozens of couches (engaging with local communities along the way) to document the stories, experiences, and advice of youth, educators, and employers. Through these conversations they have identified actionable strategies to solving the core issues job seekers and employers face.

Acting as a catalyst for change in North America, Road to Employment brings together multiple stakeholders to promote public engagement and conversation of this important issue.

See our website for tips, short films, and industry expert advice to advance your career.